This past weekend I spent Friday afternoon and Saturday evening at the Baltimore Book Festival, and I was really glad I went. Friday I was actually on my own (sans child!) because I was on a panel - Rosie stayed in extended care at preschool and then Brian left work a little early to pick her up. Saturday we all went together, though actually we did split up for a while so I could wander the festival a bit and then go chat with people all adult-like at the SFWA reception while Brian took Rosie to the Maryland Science Center.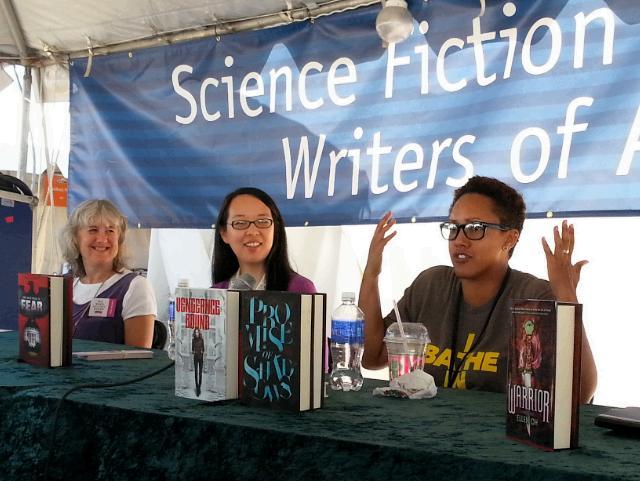 Before my panel Friday was an awesome panel on the grassroots movement/organization We Need Diverse Books, moderated by
Ellen Oh
, and also featuring
Justina Ireland
,
Caroline Richmond
, and
Karen Sandler
. I tried to take a picture of Ellen but the shiny reflective part of the podium was just too bright from the high sun outside for my phone camera to compensate. I did get a picture of the rest of the panel though.
Besides talking about the organization and the need it is addressing, the authors also described their own and each other's books. They all sounded fascinating, but the one at the top of my reading list is now
Prophecy
, by Ellen Oh - Ancient Korean history for the win!
Other books and authors were also promoted, including Alayah Dawn Johnson's
Love is the Drug
, which comes out
tomorrow!
I am so excited about this book. Every book Alayah has written has been better than the previous one. Justina, who was on the panel, had read an ARC (Advanced Reader's Copy), and said it was about a flu epidemic. She reviewed it as terrific and chock full of fascinating cultural stuff about the black and inter-racial communities in Washington, DC -- that's where Alayah grew up, so of course she has the inside insight, and it's now part of the region I live in, so I'm excited to be able to learn more about it through an SF vehicle.
I myself had brought 5 copies of Alayah's hit from last year,
The Summer Prince
, because I wanted to talk about it in my panel, and I wanted it to be available at our book table in case people heard us talk about it and wanted to read it - it also got plugged at the previous panel, so that was great too. Alayah herself is living in Mexico right now and was unable to attend the book festival, but I understand she is planning to come to this side of the continent in November for the World Fantasy Convention.
My panel was on Writing About Social Justice in Science Fiction and Fantasy. Fellow panelist
Fran Wilde
stepped up to moderate, and thankfully also widened representation at the table to include someone non-white by inviting Justina Ireland to come back up and chat with us. "Widening the table' was an important component of how many of us viewed promoting social justice in SF. Besides me, Fran, and Justina, we had
Alex Shvartsman
, author of
Explaining Cthulu to Grandma and other stories
, who is also the editor of the comedic
Unidentified Funny Objects
series. Alex commented that as an editor he enjoys the opportunity to promote awareness of up-and-coming authors, by publishing them side-by-side with better-known names. In particular he mentioned local author
James Beamon
, whom I got to meet later at the SFWA reception. Rounding out the panel was
Sunny Moraine
, who has a story in the fabulous collection
Long Hidden: Speculative Fiction from the Margins of History
. In addition to 27 terrific stories,
Long Hidden
features this fabulous cover art by Julie Dillon:
I had a copy of it with me and there were more on sale at the SFWA table. I highly recommend it. I was also busy promoting the anthologies
Dark Matter: A Century of Speculative Fiction from the African Diaspora
and its sequel,
Dark Matter: Reading the Bones
, as well as the World Fantasy Award-winning novel
Alif the Unseen
by G. Willow Wilson, and
Salsa Nocturna
, a collection of stories by Daniel José Older.
Alif the Unseen
features hacktivists fighting a totalitarian government in the mideast, while
Salsa Nocturna
features a half-dead guy who both works for and bucks up against the power structure of the ghost Council in New York City, as well as several supporting characters that are latino, black, or both.
During the discussion, Fran asked us to give advice to writers writing about people different from themselves. I echoed something Justina had said on the earlier panel, which was to read books by authors from that culture, and recommended the
Carl Brandon Society's website
as a source of reading lists, and I also recommended
Writing the Other
, by Cynthia Ward and Nisi Shawl, which is so much like a workshop it includes homework for the reader. Sunny went on to affirm that
Writing the Other
is something every writer should read, and I too think it would be useful for anyone who aims to write about people -- there's a lot in it about just plain making characters full-bodied characters, in addition to whatever about them makes them Other to you.
Someone in the audience asked about where to find works by queer authors or featuring queer characters, and Sunny helped me plug the Outer Alliance, which is a QUILTBAG SF&F writer's group. I was totally blanking on specific projects to recommend, so was very thankful when Fran brought up the
Kaleidoscope
anthology. And of course,
Long Hidden
has some stories with queer protagonists (& authors) as well.
Fran asked us about writing social justice into futuristic science fiction, and I riffed off something Justina said -again- to suggest people make sure they consider the human cost of fielding a new technology. As an example I brought up the freeways in Michigan, and how the so-called "race riots" in the late 1960's were actually caused by how the freeways through Flint and Detroit were built through/on top of (and destroyed) successful black communities and commercial districts, and how we all enjoy the freeways now but few of us know that history and the social instability to which it contributed. Justina added that something similar happened here in Baltimore, so they had the same problems.
It was great meeting everyone, and all in all a great panel, IMHO. I even remembered to mention the upcoming anthology
Octavia's Brood: Science Fiction From Social Justice Movements
.
On the way back to my car later a young woman I passed told me "Good panel," and gave me a big thumbs-up, so maybe I'm not the only one who thought it went well. :)